Ormonde Resorts – Villa Rosea invites you to its seven tastefully decorated rooms. Each room is unique, with its own character, history, and a name which reflects the style of decoration.
All rooms include:
– satellite TV
– individually controlled air conditioning
– phone
– mini bar
– free Wi-Fi internet access
– hair-dryer
– top quality Italian cosmetics
---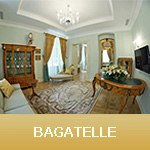 Bagatelle – suite
The beautiful, spacious suite located on the ground floor consists of a living room and a bedroom with an adjusting large terrace leading to the garden.
PRICE FROM: 600,00 ZŁ BOOK
---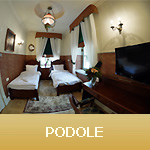 Podole – twin room
The cosy, "Polish-style" room is located on the ground floor; its decoration takes you back to the times when famous Polish writers, Stefan Żeromski and Bolesław Prus, visited the place.
PRICE FROM: 290,00 ZŁ BOOK
---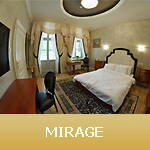 Mirage – double room
Mirage, sparkling with gold, will enchant even the most demanding guests. Its charm is complemented with a spacious terrace from which you can admire an amazing spectacle with light and water in the leading roles.
PRICE FROM: 500,00 ZŁ BOOK
---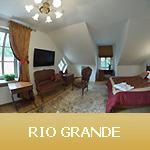 Rio Grande – double room
A spacious room in the attic in brown and maroon, with a unique atmosphere. It is complemented with a beautiful bathroom finished with Brown Forest and Crema Marfil natural stone tiles
PRICE FROM: 400,00 ZŁ BOOK
---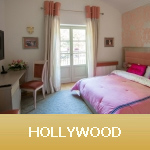 Hollywood – double room
This charming, originally decorated room, dominated by hues of pink, will help you to escape from the humdrum reality to have a good time in our over one-hundred-year-old villa. An undoubted advantage is a view over the famous Lime Avenue (Aleja Lipowa) which you can admire from the balcony.
PRICE FROM: 400,00 ZŁ BOOK
---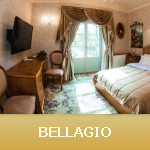 Bellagio – double room
A stylish room located on the first floor. It has a balcony overlooking the beautiful garden with a fountain hidden among the greenery. Those who admire beauty will certainly like the bathroom finished with Trawertino Clasico marble stone tiles.
PRICE FROM: 400,00 ZŁ BOOK
---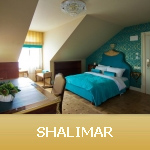 Shalimar – double room
This originally and tastefully decorated room, with exotic elements and interesting architectural solutions, is located in the attic and complemented with a large bathroom covered with Crema Marfil natural stone tiles. From the window there is a beautiful view over an old park.
PRICE FROM: 500,00 ZŁ BOOK