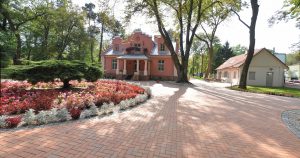 Built between 1889 and 1893 for Adam and Walentyna Nagórscy, the villa combines classicist motifs with Polish architectural traditions. Its form is simple and its size is moderate.
The villa of Nagórscy, as it was originally called, was in the centre of the vibrant cultural life of Nałęczów. Walentyna Nagórska was a talented actress, patron of the arts, and the life and soul of the party during the meetings of famous artists, actors and writers. The villa's terrace has its own history. It saw the following celebrities of Nałęczów as its guests: Bolesław Prus, Stefan Żeromski, Gustaw Daniłowski, Michał Elwiro Androlli, the young Zofia Rygiel Nałkowska, Marceli Handelesman, and Władysław Tatarkiewicz.
It was the Villa of Nagórscy where the first Polish national flags were hung in May 1916 – at that time the National Department had its seat there. The fate of the building has been closely connected with Polish history. Villa Rosea was devastated during the years of German occupation and during the years of the communist government it was under the constant threat of confiscation.
In 2006, Rosea was bought by Stanisław and Barbara Burzyńscy. Today, after careful renovation, it shows the beauty of the golden era in Nałęczów's history.