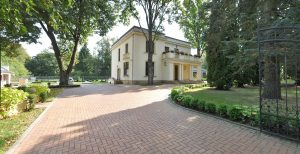 Gioia means 'joy' in Italian. And with joy are connected the beginnings of the villa which was erected in 1927 by an outstanding lawyer from Lublin, Wacław Salkowski. The design was prepared by F. Papiewski and B. Kelles Krauze; the building was to resemble the Villa Madama in Rome. Undeniably, Gioia differs strongly from Madama; however, thanks to its simplicity, charm and the designers' artistic talent it is quite a unique and exceptional structure in the region.
The villa was given as a dowry to a wonderful woman, Jadwiga Salkowska, the future wife of Józef Beck, a Polish politician appointed by Marshal Józef Piłsudski as the minister of foreign affairs. Until September 1939, Gioia was frequently visited by members of the Polish government, including probably Marshal Józef Piłsudski.
The outbreak of war ended the joyful period in the villa's history. Subsequent villa's hosts included the Nazi Governor of Lublin Zöner, the SS General Globocnik, and Marshal Rokossowski. In 1950, Gioia was adapted for the needs of the Employees' Holiday Fund, which only added to the building's devastation.
Stanisław and Barbara Burzyńscy bought the villa in 2008 and five years later its extensive refurbishment and redecoration was completed. The owners hope that the renovated Gioia will lighten the Polish reality with a hint of Italian sun.